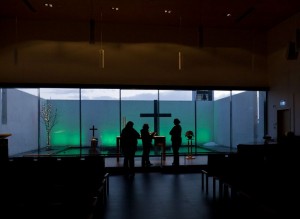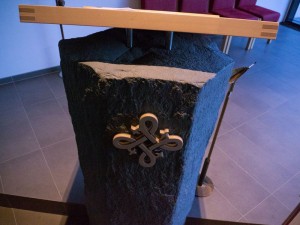 For the past year I have been working on a YA novel about a Norse teen from 1,000 A.D. I read about Gudrid Thorbjarnardottir in two of the Icelandic sagas where she is shown to have had a truly amazing life. I've tried to show her in 3D in What Else is There? The story is in the beta reader stage, so I asked my Icelandic daughter-in-law Inga to read it, then brought a copy of the manuscript last week when we were there. When we arrived, she asked if I would like instead to have the pastor of a new church in Reykjavik, which is named after Gudrid, read it first. What a wonderful opportunity.
So, we went to meet Dr. Sigríður Guðmarsdóttir at the Guðríðarkirja. She was charming. Naming the church after this strong, early Christian figure was Dr. Guðmarsdóttir's idea. She was also a co- designer of the church.  The symbolism of her design ideas is fascinating.
Behind the altar is a water garden. In addition to the obvious symbols present there, you may notice the green light on the white wall. The color changes according to the liturgical calendar. The small tree on the left is a rowan, thought  to symbolize innocence. In shipbuilding, rowan wood is not used alone, but only accompanied by juniper wood. Each alone has a tendency to cause a ship to capsize in bad weather, each in the opposite direction from the other. But use both and your ship is balanced. This church has two water gardens with a tree in each, to keep the church also balanced.
The pulpit is made of wood and basalt, a volcanic rock. Basalt is crystalline and emerges from the ground in hexagonal columns. The logo on the front was also influenced by Dr. Guðmarsdóttir. It is a combination of a Viking symbol representing a vine and a Christian cross. It refers to John 15:5 "I am the vine, you are the branches; he who abides in Me and I in him, he bears much fruit, for apart from Me you can do nothing."
The nave is elegantly simple with wood and white walls. It is surrounded by corridors each named after a major pilgrimage route, since Gudrid went on a pilgrimage to Rome to meet with the pope. The rooms off the corridors are each named for a place that she lived – Laugarbrekka, where she was born, and Glaumbaer where she and her third husband lived in Iceland;  Brattahlid where she lived in Greenland; and Straumsfjord where she spent time in Vinland, N.A. The kitchen is named after Niðaros, now Trondheim, Norway, which was founded by King Olaf Tryggvason in 997 at the mouth of the Nið River. The cathedral there became the center of religious life and the apex of pilgrimages. The new church's kitchen being a source for water and sustenance in a religious context, earned it the connection.
Dr. Guðmarsdóttir's design ideas help convey her message to her congregation. It would be terrific if all architecture was so meaningful.  She is now working towards becoming a bishop. I was honored to meet her and hear her story.
A comment from Inga after seeing the above entry:
"I posted the link to Sigríður I am sure she will be happy to see this. She has just announced that she is willing to be a bishop and two other are running for that too – her focus will be human rights and Christianity."