Iceland, 2015
Being invited for an artist or author residency is such an honor. Last May I went to northern Iceland for a week long artist residency to help seventy kids in grades one to ten paint murals. The school was Valsárskóli in Svalbarðsströnd, which is across the fjord from where my son Eric and his wife Inga live. Inga, whose full name is Inga Sigrún Atladóttir, is the Principal of the school and was kind enough to hire me. It was only the second time that I've needed a translator to communicate with students. The youngest kids are beginning to learn English, but the eighth to tenth graders are fluent. All of them painted with enthusiasm and flair. The younger artists worked from sketches they had done of things important to them, from sheep to trees with little people living in them. The middle group did rainbows, Minecraft, and even police cars with lights flashing. Within this rainbow is a red, fire-breathing dragon wearing a nice hat with a flower on it!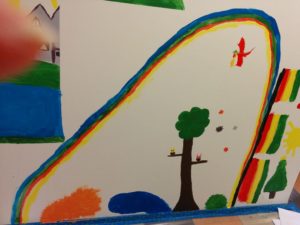 The older kids did conceptual self portraits within tracings of their own shadows. We used a powerful light borrowed from their auditorium and drew the shadows on paper first so we could arrange them well on the wall.
Hrafntinna, who was shy, was the last to decide on a pose. She was sprawled on the sofa where the kids were hanging out watching the painting unfold and for the longest time wasn't sure what position she wanted to be in.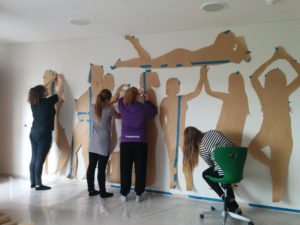 One girl had done a yoga tree pose, some kids were leaning on their closest friends, three buddies were arm in arm, and so on. But she was undecided. So I suggested that she use the horizontal pose she was in right then. She agreed, we traced her, then floated her above everyone else. What color did she choose to paint herself? Sky blue. And when she added her conceptual imagery, it consisted of tiny birds flying within her form.
In the video, the adults (Ásrún, Elizabet, Hrafndís, and Belgie), are teachers who helped enormously with communicating with students (Kristján, Rakel, Hrafntinna, Alda, Alida, Ásdis, Kristbjord, Orri, Ragnar, Stefán, Sævar, Telmar, and Þorri) and with keeping the paint under control. Through the window you can see a bit of the fjord and the snow-covered mountains on the other side.
Working with these teens and  younger people on their artistic visions was an awesome experience.
England, 2016
Now this May I will be heading to Cobham, Sussex, England for another week-long residency, this time at an international school.  The kids will be in preK to 2nd grade classes and we will spend time thinking about art, writing, and nature. My first picturebook, Sand Dollar, Sand Dollar (originally published by Lippincott, then Harper & Row in 1980), was reissued last year, in a paperback version, translated into six languages, which is the connection to this international school. Each book also includes the story in English and so these translations are ideal for kids, in the U.S.A. and everywhere, who are bilingual or hope to be.
Sand Dollar, Sand Dollar was inspired by my love of the beach at Plum Island in Massachusetts. It is about Peter and his dog Urchin making a sand castle, then dealing with the sea washing the castle away. He wants the waves to go away, and thinks his sand dollar does make it recede. But when he finds a little flounder, who needs the sea, he says, "What have I done?" And what do you think he does next? This story is about a fine day at the beach, but also about our responsibility toward the environment we love.
I will be bringing sand dollars and other shells, slide shows relating to the beach, giant insects, and steel and mixed media sculpture. And we will make things that show how we feel about the natural world.