Posted in
creative living
,
process
,
reviews
,
sculpture
on November 5th, 2010 by JAZ –
Be the first to comment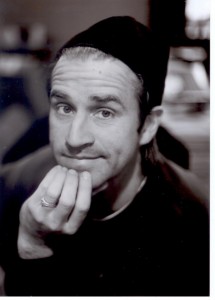 Large scale sculpture is expensive to make, a challenge to move and difficult to sell, none of which deters Dale Rogers. His business acumen and energy level have propelled his career as a successful sculptor, allowing him to make an excellent income doing the work he loves. His work has been purchased by sculpture parks and municipalities all over the U.S. and by hundreds of private collectors. There is also a book about Dale's sculpture in the works.
Dale's formula for success? He keeps his prices low and works  hard on design, construction and promotion of his sculpture. Dale's name is on every piece, he does everything he can to get big pieces in high visibility locations, and 35% of his business is face to face selling through high end juried shows. Dale is fun to talk with; his enthusiasm and vitality are infectious. He is prolific and spends
fifteen or more weeks a year on the road. He keeps his prices down by buying steel in bulk, has it laser cut to minimize labor time when fabricating and carefully plans out his designs using Form Z software to minimize waste. His works are priced from $3,000 to $30,000 or more. He sets a personal goal of selling fifty $5,000 pieces a year. Last year, in spite of the economic meltdown, was his best year ever. Dale produces.
Dale has been promoting his Big Dog Show, a grouping of 20 to 100 large scale, 500-600 pound Corten steel dogs with 150 pound bases that have already been shown at several public spaces, sometimes earning funds for humane society work. He has been known to load and read more »