Friday and Saturday, May 31 and June 1 from 9:00-4:00, the Concord Museum in Concord, MA is sponsoring Garden Affairs, this year's iteration of their annual garden tour. For the first time, one of my sculptures will be included
In October of 2010 Di & Jack Clymer commissioned a kinetic steel sculpture that was a collaboration intended to grace their lovely riverbank property.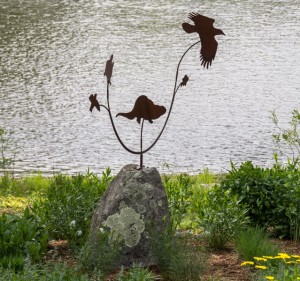 Their vision was to incorporate imagery of some of the local river wildlife, along with a block of local stone, as a focal point in their garden. Carolyn Wirth, a sculptor and designer, worked with the Clymers and I on the design elements, then I fabricated the resulting design. Carolyn drew the shapes of the animals that were to be included and facilitated the discussion while I provided insights into what would be physically and practically possible for the sculpture within the desired budget. Once the details were worked out, I built the
sculpture and brought it to the Clymers, who arranged to have it mounted on the stone they selected. The sculpture was designed specifically for them and as with all of my work, will not be duplicated.
Today I refreshed the silicone in the four pivot points that keep the sculpture gently moving in wind and gave it a coating of Penetrol, a rust preventative liquid that in this case was applied over a nicely rusted surface. The result is a look that complements the natural feel of the surroundings.
There are seven gardens along the Museum's tour. If you go, check out the sculpture.