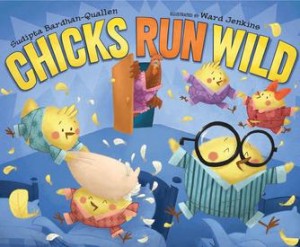 Chicks Run Wild is a hilarious picturebook that will be released January 25, 2011 by Simon and Schuster. The pictures are by Ward Jenkins and the story by Sudipta Bardhan-Quallen.
The little chicks in CHICKS RUN WILD certainly think they know how to go wild – until Mama shows them how to really do it!
But we want to know … how does your class RUN WILD? Create a photo essay and win!
Kids and teachers: check out the Chicks Run Wild Photo Essay Contest. The class with the winning photo essay can win a PRIZE!